Author Guidelines for Data Papers
You can use one of the data paper templates below to prepare your manuscript.
Authors are invited to submit manuscripts that fall within the
focus
of the journal. Please follow the below guidelines, and contact the
Editor
if you have any questions.
Submitting a data paper to JOPD is quick and easy, as follows. If you are submitting a paper about data that is already public, you can start from step 3.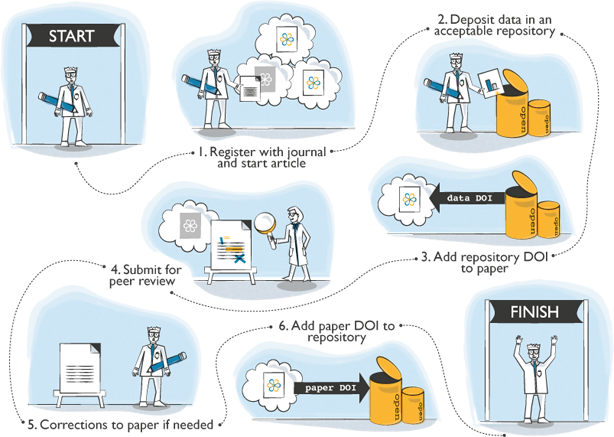 Register as an author with JOPD, and start your article. All JOPD data papers can be authored quickly and efficiently using our word processing template (see below).
Deposit your data in an acceptable repository. Please see our list of repositories, or choose your own. Please also read our list of peer review criteria, and aim to make sure that your data deposition meets these standards. Remember to make your data public so that the reviewers can find it.
The repository will provide you with a DOI (or similar persistent identifier) for your data. Please add this to your data paper under repository location.
When finished, submit the paper for review in the online system. An editor will get back to you and may recommend changes either to the way your data has been archived, or to the paper itself.
Make any changes the peer reviewers have suggested. Once your paper has passed peer review, you're almost there!
Finally, copy the citation for your article (including the DOI) and add this to the record of your data in the repository. Once this has been done, your article will be published immediately.
Permissions
The author is responsible for obtaining all permissions required prior to submission of the manuscript. Permission and owner details should be mentioned for all third-party content included in the submission or used in the research.
If a method or tool is introduced in the study, including software, questionnaires, and scales, the license this is available under and any requirement for permission for use should be stated. If an existing method or tool is used in the research, it is the author's responsibility to check the license and obtain the necessary permissions. Statements confirming that permission was granted should be included in the Materials and Methods section.