Author Guidelines
Please note that due to editorial changes the journal is not currently open for submissions. You can check the website for any updates, or email imogen.clarke@ubiquitypress.com. 
Authors are invited to submit manuscripts that fall within the focus of the journal. Please follow the below guidelines, and contact the Editor if you have any questions.
Submitting a data paper to JOPD is quick and easy, as follows. If you are submitting a paper about data that is already public, you can start from step 3.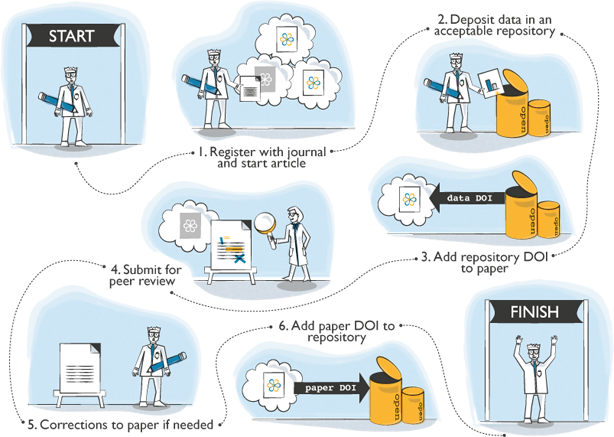 Register as an author with JOPD, and start your article. All JOPD data papers can be authored quickly and efficiently using our word processing template (see below).
Deposit your data in an acceptable repository. Please see our list of repositories, or choose your own. Please also read our list of peer review criteria, and aim to make sure that your data deposition meets these standards. Remember to make your data public so that the reviewers can find it.
The repository will provide you with a DOI (or similar persistent identifier) for your data. Please add this to your data paper under repository location.
When finished, submit the paper for review in the online system. An editor will get back to you and may recommend changes either to the way your data has been archived, or to the paper itself.
Make any changes the peer reviewers have suggested. Once your paper has passed peer review, you're almost there!
Finally, copy the citation for your article (including the DOI) and add this to the record of your data in the repository. Once this has been done, your article will be published immediately.
Article Processing Charges
If your paper is accepted for publication, you will be asked to pay an Article Publication Charge (APC) of £350 to cover publications costs. This fee can normally be sourced from your funder or institution, and we recommend approaching them about this at the time of submission.
You will be able to pay any amount from nothing to full charge, as we recognise that not all authors have access to funding, and we do not want fees to prevent the publication of worthy work. The editor and peer reviewers of the journal will not know what amount (if any) you have paid, and this will in no way influence whether your article is published or not.
Templates
You can use one of the data paper templates below to prepare your manuscript.
Permissions
The author is responsible for obtaining all permissions required prior to submission of the manuscript. Permission and owner details should be mentioned for all third-party content included in the submission or used in the research.
If a method or tool is introduced in the study, including software, questionnaires, and scales, the license this is available under and any requirement for permission for use should be stated. If an existing method or tool is used in the research, it is the author's responsibility to check the license and obtain the necessary permissions. Statements confirming that permission was granted should be included in the Materials and Methods section.
Publication Fees
Articles accepted for publication will be asked to pay an Article Publication Charge (APC) to cover publication costs. This can normally be sourced from your funder or institution. This fee covers all publication costs (editorial processes; web hosting; indexing; marketing; archiving; DOI registration etc.) and ensures that all of the content is fully open access. This approach maximises the potential readership of publications and allows the journal to be run in a sustainable way.
Many institutions have funds available to support open access publications by their staff, therefore we ask that you contact the relevant body to cover the APC.
If you do not know about your institution's policy on open access funding, please contact your departmental/faculty administrators and institution library, as funds may be available to you.
If published, you will receive an APC request email along with information on how payment can be arranged.
Waiver Information
If you do not have funds available to pay the APC (e.g., because your institution/funder will not cover the fee) then we may be able to offer a discount or full waiver. Should you need to discuss waiver options or the APC in general, please ensure that you contact the editor as early as possible. Editorial decisions are made independently from the ability to pay the APC. Waiver requests must be received either before a submission or as part of the submission information (e.g. in the cover letter).