Submissions
Submitting an Article Online
To submit an article online, and to check the status of your submission, you need to have an account with Journal of Open Psychology Data
Don't have an account? Register Here.
Start Submission
Author Guidelines
The journal has reopened for submissions under a new editorial team. Please note that we are currently revisiting our policies so some changes will be made in the coming months. 
You can use one of the data paper templates below to prepare your manuscript.
Authors are invited to submit manuscripts that fall within the
focus
of the journal. Please follow the below guidelines, and contact the
Editor
if you have any questions.
Submitting a data paper to JOPD is quick and easy, as follows. If you are submitting a paper about data that is already public, you can start from step 3.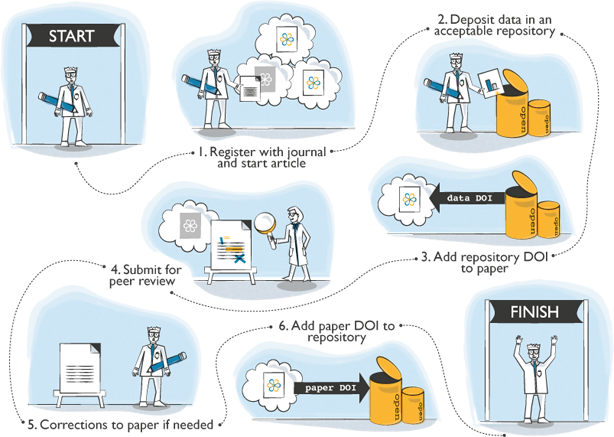 Register as an author with JOPD, and start your article. All JOPD data papers can be authored quickly and efficiently using our word processing template (see below).
Deposit your data in an acceptable repository. Please see our list of repositories, or choose your own. Please also read our list of peer review criteria, and aim to make sure that your data deposition meets these standards. Remember to make your data public so that the reviewers can find it.
The repository will provide you with a DOI (or similar persistent identifier) for your data. Please add this to your data paper under repository location.
When finished, submit the paper for review in the online system. An editor will get back to you and may recommend changes either to the way your data has been archived, or to the paper itself.
Make any changes the peer reviewers have suggested. Once your paper has passed peer review, you're almost there!
Finally, copy the citation for your article (including the DOI) and add this to the record of your data in the repository. Once this has been done, your article will be published immediately.
Permissions
The author is responsible for obtaining all permissions required prior to submission of the manuscript. Permission and owner details should be mentioned for all third-party content included in the submission or used in the research.
If a method or tool is introduced in the study, including software, questionnaires, and scales, the license this is available under and any requirement for permission for use should be stated. If an existing method or tool is used in the research, it is the author's responsibility to check the license and obtain the necessary permissions. Statements confirming that permission was granted should be included in the Materials and Methods section.
Submission Preparation Checklist
As part of the submission process, authors are required to check off their submission's compliance with all of the following items, and submissions may be returned to authors that do not adhere to these guidelines.
The submission has not been previously published, nor is it before another journal for consideration (or an explanation has been provided in Comments to the Editor).
The submission file has been created from the JOPD article template.
Where available, DOIs for the references have been provided.

Tables and figures are all cited and included within the text.

The text adheres to the stylistic and bibliographic requirements outlined in the Author Guidelines, which is found in About the Journal.
Studies involving human subjects adhere to local ethical standards at the host institution and follow American Psychological Association's (APA) Ethical Principles of Psychologists and Code of Conduct (http://www.apa.org/ethics/code/index.aspx). Participant data is sufficiently anonymized and appropriate consent forms signed.
Figures/images have a resolution of at least 150dpi (300dpi or above preferred). Each file is no more than 20MB per file. The files are in one of the following formats: JPG, TIFF, GIF, PNG, EPS (to maximise quality, the original source file is preferred).
All authors have given permission to be listed on the submitted paper and satisfy the authorship guidelines.
Copyright Notice
Authors who publish with this journal agree to the following terms:
Authors retain copyright and grant the journal right of first publication with the work simultaneously licensed under a Creative Commons Attribution License that allows others to share the work with an acknowledgement of the work's authorship and initial publication in this journal.
Authors are able to enter into separate, additional contractual arrangements for the non-exclusive distribution of the journal's published version of the work (e.g., post it to an institutional repository or publish it in a book), with an acknowledgement of its initial publication in this journal.
Authors are permitted and encouraged to post their work online (e.g., in institutional repositories or on their website) prior to and during the submission process, as it can lead to productive exchanges, as well as earlier and greater citation of published work (See The Effect of Open Access).
Privacy Statement
The names and email addresses entered in this journal site will be used exclusively for the stated purposes of this journal and will not be made available for any other purpose or to any other party.
Publication Fees
If your paper is accepted for publication, you will be asked to pay a minimal Article Publication Charge (APC) to cover publications costs. This fee can normally be sourced from your funder or employer, and we recommend approaching them about this at the time of submission.
The APC is £450. This fee covers all publication costs (editorial processes; web hosting; indexing; marketing; archiving; DOI registration etc.) and ensures that all of the content is fully open access. This approach maximises the potential readership of publications and allows the journal to be run in a sustainable way.
Waiver Information
We recognise that not all authors have access to funding, and we do not want fees to prevent the publication of worthy work. As such, exceptional cases should be presented to the Journal Manager pre-submission to justify an APC waiver. The editor and peer reviewers of the journal will not know what amount you have paid, and this will in no way influence whether your article is published or not. A small part of any paid APCs goes towards fee waivers so all who publish with us support our broader community, however we have limited numbers and therefore limited ability to offer this widely, therefore this is typically reserved to those with no capacity for funding.